Extreme performance and exhilarating drop-top driving pleasure: that's the new Ferrari 488 Spider. The latest addition to the Prancing Horse range combines the extraordinary prowess of the 488 GTB's mid-rear turbo-charged V8 and the thrill of open-air motoring with the added excitement that comes from hearing the unmistakable soundtrack of that engine.
The most recent pictures of the 488 Spider shine with a Blu Corsa livery color and it sports the most technologically advanced retractable hard top on the market. Offering a much lighter construction and superior noise and wind protection to a traditional soft-top, this solution is now available on the most high-performance and technologically advanced Ferrari Spider ever built.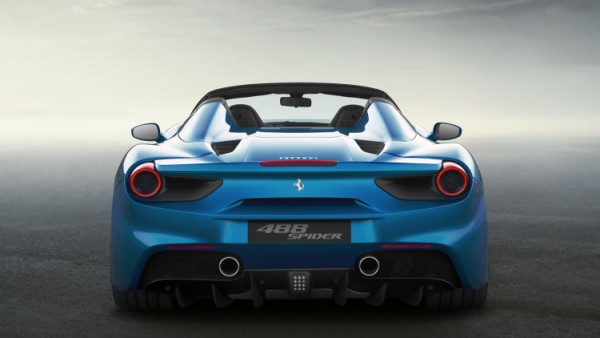 The Ferrari 488 Spider's performance is nothing short of extraordinary. Beneath the engine cover throbs the 3902 cc turbo-charged V8 that debuted just a few months ago on the 488 GTB. The 488 Spider has a maximum power output of 670 CV combined with maximum torque of 760 Nm allowing the 488 Spider to sprint from 0 to 62 mph in only 3 seconds flat.
In line with the Ferrari tradition, this model has its own distinctive soundtrack. It is seductive, but never invasive when the top is dropped, with both volume and clarity increasing as the car accelerates and revs rise, reinforcing the sensation of massive performance.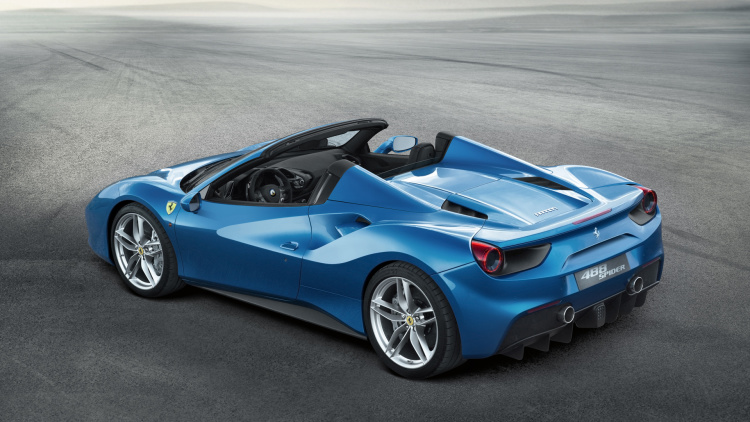 The 488 Spider is designed around the retractable hard top concept and includes a space frame chassis made of 11 different aluminum alloys combined with other noble metals. The RHT (retractable hard top) fold backwards very smoothly in two overlapping sections to rest flush on the engine, making it more compact, and it takes just 14 seconds for the top to fully retract.
Every detail has been meticulously sculpted to express the technical excellence of the project through beauty: flying buttresses that optimally channel air flows to the engine cover, ribbing on the engine cover and air intakes with sculpted mesh grilles which lend this new model a sense of incredible dynamism. To achieve this result, the Ferrari Styling Centre completely reworked the aesthetics compared to the 488 GTB.
Over all, response times are 9% more rapid than the previous Spider without any compromise whatsoever being made on comfort. The car's design was adapted to efficiently meet the demands of spider driving and use. The Spider's dynamic behavior is effortless on even the most challenging routes. It is remarkably easy to drive on the limit thanks to flawless handling even on the most demanding of roads.
I can't wait to see the all-new Ferrari 488 Spider in action in just a couple of months. Stay tuned for the next update on the lastest addition to the Prancing Horse range. Until then, visit http://www.miami.ferraridealers.com/ or contact Alex Akbarin at 305-476-3049 for more information.