All auto aficionados' eyes were on Geneva, Switzerland this past week. How so? Last Tuesday marked the first press day of the 87th International Geneva Motor Show — one of the world's most important auto shows. Many significant new-vehicle debuts were made and the standouts, in my opinion? The Aston Martin Valkyrie and AMR line.
Let's explore the Valkyrie first. Joining a long, famous lineage of "V" cars — the Virage, Vanquish, Vantage, and Vulcan — consider Aston Martin's latest debut, the Valkyrie (code name AM-RB 001), as the coolest hyper car.  And while its name is rooted in ancient mythology, the Valkyrie is a pure expression of modern technology.
Aston Martin EVP and CCO Marek Reichman says, "Aston Martin model names have deep meaning. They need to inspire and excite. To tell a story and enrich a narrative that stretches back some 104 years. The Aston Martin Valkyrie is an incredibly special car that demands an equally remarkable name; an uncompromising car that leaves nothing in reserve. The connotations of power and honor, of being chosen by the Gods are so evocative, and so pertinent to a car that only a fortunate few will ever experience."
Discover the Aston Martin Valkyrie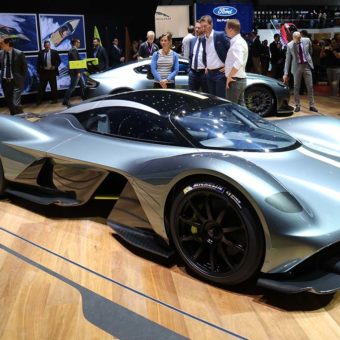 Aston Martin AMR and two concepts were also unveiled with much fanfare at the Geneva Motor Show. For those of you not-in-the-know, AMR is an exciting new brand upping the Brit IT car brand's racing game. With enhanced performance, sharper dynamics and more powerful design language, the AMR line takes Aston Martin's road cars to new and exciting extremes. Yes!
As mentioned earlier, two AMR concepts debuted in Geneva: The Rapide AMR and Vantage AMR Pro. The Rapide represents the first tier of AMR, enhancing the four-door sports car with a comprehensive mix of power, chassis and styling upgrades. The Vantage AMR Pro, on the other hand, kicks everything up a few notches. A track-only car, it's powered by a roaring version of the V8 found in the Aston Martin GT4 racecar.
Reichman adds, "Each time we have pushed the boundaries and done something extreme, the customers have loved the cars. AMR enables us to take Aston Martin into a new dimension. One where we can turn-up the sporting DNA present in all of our models and make a true statement. An AMR model will have an instantly recognizable design language. One that accentuates and amplifies, together with the latest GT racecar technology for the road. They will be special and rare cars that are credible, thrilling to drive and hugely desirable to own."
Learn more about Ken Gorin and The Collection.