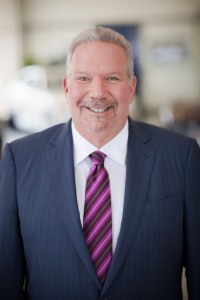 My name is Ken Gorin, and I am President and CEO of THE COLLECTION, South Florida's premiere luxury automotive dealership. Welcome to my blog!
As I approach my twenty-year anniversary with the company, I am proud to say that THE COLLECTION has grown to become one of the country's most successful luxury automotive dealerships.
When I initially joined my business partner, Ugo Colombo, at THE COLLECTION in January of 1995, the company had five franchises, which included Jaguar, Porsche, Audi, Ferrari and Lotus. Since then, we have added Aston Martin, Maserati, Alfa Romeo and McLaren to our collection. We have also gone on to earn honors such as The Porsche Premier Dealer Award, The Pride of Jaguar Award and The Audi Magna Society Dealer Award.
In response to THE COLLECTION's overwhelming success, Ugo and I worked hand in hand through his development company CMC Group, to bring our vision to life — to create a new dealership standard by which all others would be measured in a 350,000-square-foot, state-of-the-art facility that blends 21st-century technology with the understated, classic elegance of the world's finest luxury stores. Built in 2002, THE "new" COLLECTION (as our clients affectionately called it) stands today as our dream come true — a headquarters for the world's most coveted brands, the industry's most talented personnel and the standard for world-class auto service.
I am also an active participant in community affairs. I represent THE COLLECTION through my work on the chairman's committee of the Make-A-Wish Foundation, as a Jackson Memorial Foundation Golden Angel, and as a member of the Jewish Federation, the Latin Builders Association, the Coral Gables Chamber of Commerce, and the Greater Miami Chamber of Commerce. THE COLLECTION is known for its philanthropic gifts to the Jackson Memorial Hospital Foundation, Women of Tomorrow, Miami Children's Museum, and Baptist Hospital Foundation., which hold several fundraising events throughout the year. I also support Best Buddies, the Fisher Island Foundation, Wade's World Foundation, Boys and Girls Club of Miami-Dade, Honeyshine Foundation, Miami Children's Chorus, the Beacon Council, Toys for Tots, United Way, and The Vizcayans.
For over 30 years, THE COLLECTION has built its business upon successful, long-term relationships with our clients. When you acquire a new or pre-owned automobile from us, both you and your automobile are treated with the utmost care and attentiveness. That's why so many of our clients return to THE COLLECTION time and again. Whether you buy or lease an Audi, Porsche, Ferrari, Maserati, Alfa Romeo, McLaren, Aston Martin, or Jaguar, THE COLLECTION will exceed your expectations, making this a uniquely gratifying experience that you will look forward to revisiting.
See you here!