THE COLLECTION celebrated a Saturday of Style as VIP guests were welcomed to experience a personal test drive with the State of the Art Ferrari California T. But that's not all. THE COLLECTION, together with renowned designer Salvatore Ferragamo, collaborated to offer guests the ultimate "personalized style" experience.
The Ferrari aficionados who joined us on Saturday experienced a one-on-one driving session, which included a drive around Coral Gables with one of our Ferrari ambassadors, and a product overview of the interior and exterior of the sporty and versatile California T. Inside our Ferrari showroom, guests were informed of the exclusive Salvatore Ferragamo Made-to-Order program which featured the customizable iconic driving shoe.  Clients were able to custom design their driving show to match their Ferrari – down to the leather, rubber sole color, stitching, buckle finish and monogramming.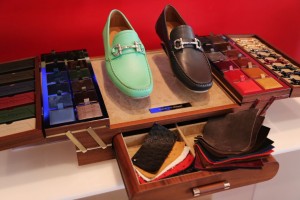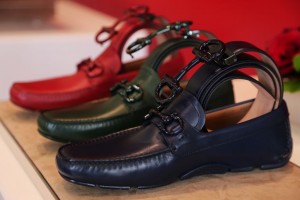 Guests also enjoyed delectable bites upon arrival and were welcomed to an array of Ferrari cars including the California T, the 458 and the four-wheel drive Ferrari FF.
To see more pictures from the event, see below and to learn more about the Ferrari California T read below or contact us to schedule your personal test-drive today.
More about the Ferrari California T: Sporty, elegant and versatile, the new California T is a sophisticated prancing horse grand tourer with a beautifully ergonomic and luxuriously handcrafted design. The California T boasts 553 HP while traveling from 0 to 60 mph in 3.5 seconds. The new Ferrari Turbo V8 provides instantaneous response, augmented by blister performance, impressive torque and a signature soundtrack, clearly attesting to a classic Ferrari engine with all the fuel efficiency of a turbo.
For more information, visit www.thecollection.com or call 305-444-5555.