By Bill Kearney
A peek behind the curtain of Ken Gorin's The Collection, where dream cars are the norm.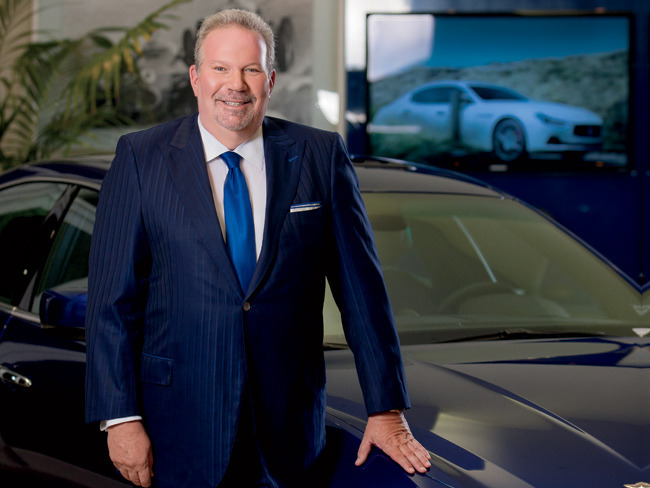 Ken Gorin at The Collection in Coral Gables, one of the leading dealers of luxury autos in the country.
As I pull up to The Collection's foyer, which looks more like a high-end condo lobby than a car dealership, I'm addressed as "sir" by the valet. A pencil-skirted receptionist immediately offers me cappuccino, and I walk a gauntlet of sports cars that speed through every man's (and some women's) dreams—Porsches, Aston Martins, McLarens, Jaguars, and more.
It's quite a show, and that's just how owner Ken Gorin wants it. But shows like this don't just happen; they have to be produced. After a handshake in the lobby, Gorin invites me upstairs, behind the curtain, if you will. As we walk, various staff members offer a chorus of "Hello, Mr. Gorin" and "Good day, Mr. Gorin."
The upstairs space is massive—a veritable city block—festooned with vintage red Porsche 911s on lifts and Ferraris with their rear-engine hoods up. Gorin leads a huddle of head mechanics and managers in suits whom he'd tasked with shortening the time it takes to pick up a car from service. They toss around ideas. One of the guys suggests that the valet identify the customer by his loaner car as he pulls in, and alert the garage before the customer utters a word. The car would arrive for the customer at the moment he finishes paying. "I love that," says Gorin, beaming. "If you can imagine—magically your car shows up. That's the perception you want to create." He acknowledges that it might be a pain to make happen, but he wants the plan implemented.

Gorin watches as Steve Sawitz ogles the new Audi RS5 cabriolet.
1 pm—Marketing Meeting
Gorin sits down with his marketing team as Brand Manager Frank Consuegra runs through new online banner ad animations: Dwyane Wade soars through the frame on his way to a slam dunk, the Audi A3 appears with the slogan "Some moves belong on a highlight reel. So does this offer." That's all good, but Gorin wants A3 banners to work on smartphones, since the buyers will be younger, and the A7 photo needs to show the unique rear architecture. Consuegra has also settled on a billboard on US 1; Gorin double-checks the image to make sure Wade looks tall enough.
Details like this pay off. In 1995, when he and a business partner bought The Collection, the dealership did $51 million in sales. 2013 was their best year to date, with $428 million in sales. "I guess you could say it was the epitome of the Miami Vice days," says Gorin of 1995. At the time, the dealership was "ethically bankrupt," and he set out to change the culture by studying companies like L.L. Bean and Harley Davidson, even handing out business cards with a code of ethics pushing relationships, not sales. Some of the touchstones for changing the culture came from running a dealership in Connecticut with his father. "He was my best friend and mentor," says Gorin.
These days, he attends five auto shows a year, and manufacturers such as Audi and Porsche invite him to tour their headquarters so he can look at their concept cars and give his opinion. The Collection is the No. 2 Porsche dealer, the No. 2 Maserati dealer, and the No. 4 Aston Martin dealer in the US, and Gorin is seen as someone who knows the American and South American buyer. He might not like the fit and finish of their prototypes, and manufacturers listen. "This is showing my age a bit," he says, "but when it became necessary for cars to have a cup holder, there was a lot of pushback [from luxury brands]. They said, 'Oh, you Americans with your big gulps.' So you provide feedback."

Gorin brainstorms with his team of head mechanics and managers.
3 pm—Showroom
Steve Sawitz, owner of Joe's Stone Crab, walks in, and, à la Cheers, everybody knows his name. It makes sense—Gorin calls the vibe he's created at The Collection a "relationship selling business model." People like Sawitz, who are car-obsessed, will simply hang out even if they're not buying. "These guys are like car shrinks," says Sawitz. "They know what you already own. They've got your back." Today he's here to test drive the new Maserati Ghibli, the brand's first car to come in under $100,000.
But before he can find the Ghibli, Sawitz encounters a stunning red Audi RS5 cabriolet. "Wow, wow," he gasps, circling the convertible, running his hands over it, rapt. "It's so aggressive. Did you put this here for a reason?" he asks Gorin, as if placing it there would seduce him into buying it. Gorin chuckles. The two have become buddies over the years, and Gorin in turn spends "too much time" at Joe's Stone Crab.
But back to the Ghibli—we pull out onto the streets of Coral Gables, and Sawitz loves this one, too, taking short bursts of high speed when appropriate, the 410-horsepower engine making a lovely ripping sound—something wild in suburbia. "Yeah, this car's got attitude," he says. "God, this thing flies."
"You're going to get a lot more road-feel in a car like this," says Gorin. "It's a true sports sedan. You'll sacrifice that smooth carpet ride, but someone who's looking for a sports sedan doesn't want a carpet ride." Sawitz is again smitten. Gorin suggests he solve the dilemma by buying both cars.

Raising a toast at the annual management team celebration dinner. "It's you guys that make that whole thing," he says.
7 pm—

Cipriani

Downtown Miami
The Collection's management team pile off a bus at Cipriani for their annual celebration dinner, taking their seats at a long white-clothed banquet table, joking now that the day is done. The wait staff serve Bellinis to one and all, and Gorin stands to make a toast. "You're my family. You stuck with me through the good and the bad. We have the facility, we have the location, we have the brands, but it's you guys that make that whole thing. And while I might be intense and I might be excitable, I can't tell you how much I appreciate what you do." He raises a toast to their health and happiness. Glasses chime. Dinner begins. The Collection, 200 Bird Road, Coral Gables, 305-444-5555
Original article can be found here.