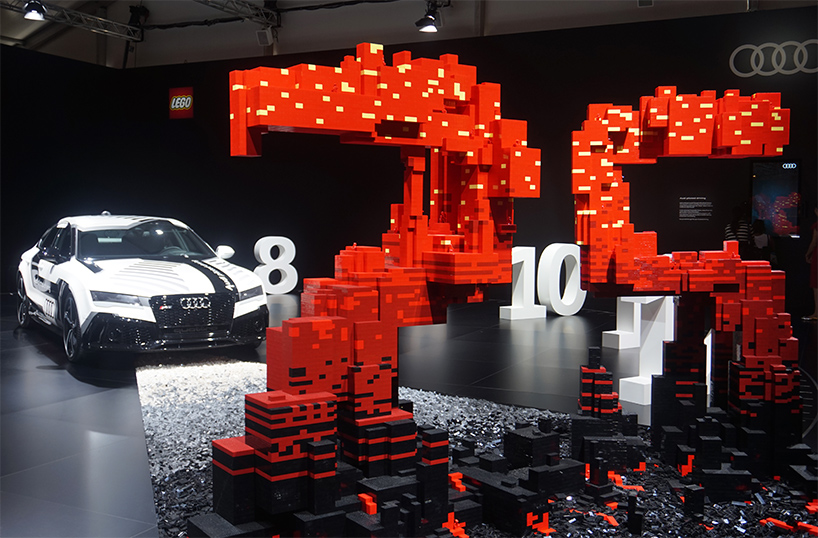 With Art Basel Miami Beach — one of the world's premiere art fairs — just finishing another successful year, Audi took part in the art-loving fun, too. How so? The German automaker is presented The Extra Hour — an installation along with LEGO Group at the prestigious Design Miami/ exhibition.
The grand idea behind The Extra Hour? Self-driving cars. Pictured here, you can see the piece — an Audi RS7 piloted driving concept, placed at the center of a giant clock face, representing the focal point of this brand presentation. Also on display? A giant number 25, completely comprised of colorful LEGO bricks.
"Audi and the LEGO Group share a passion for innovation and inventiveness," Head of Digital Business Strategy & Customer Experience at AUDI AG Nils Wollny says. "This passion is also especially valuable in the development of new products and business models that relate to autonomous driving," Wollny adds.
The playful nature of the installation truly speaks the future of Audi and their whole focus in Design Miami. Senior Innovation Director at LEGO Creative Play Lab William Thorogood says, "We hope to inspire the imagination and creativity of the visitors with this installation and encourage them to allow themselves this break from their everyday routine. The 25th Hour is the perfect time for that."
Design Miami is viewed as a worldwide design forum and draws the most influential art collectors, gallery owners, designers, curators and critics from all over the world to Miami. Audi has been the exclusive automotive partner to the exhibition since 2006 and this year, Audi was proudly the exclusive automotive sponsor.